We are, of course, deeply indebted to our volunteers for the enormous amount of
work they have put into our organization, our guests, and our dogs. They have made a tremendous impact on over 100 lives in their community.
Rob Nelson   |   Jesi Hartman   |   Gwen Evans

Karen Wawrzonkowski   |   Victoria Oberle   |   Mark Van Den Broeke    |    Lynda Ruchti    |    Annie Englehardt
ROB NELSON
Puppy Raiser / Trainer Since: 2004
When not chaperoning a WAGS dog to the bookstore, bakery, or bank, you can find Rob dangling from the top of a ladder in a dark theatre, burning prairies, delivering flowers, or at his laptop diligently researching the next can't-miss prospect for his fantasy baseball team.  He and his canine pals live in idyllic Baraboo, where current trainee Zoey longs to play centerfield for the Thunderbird softball team.
Why WAGS? I  was introduced to WAGS by a co-worker at the International Crane Foundation who was matched with a dog after she developed MS.  Because I like to take extended bicycle trips, working with WAGS is a great way to enjoy the company of a dog for short periods while still providing a valuable service to others.  It's also nice how everyone in the community seems to become more patient and forgiving when you are training a dog, especially at the store when they are a little over-zealous with their grip on that carton of half-and-half or quart of motor oil!
Favorite Memory? My first dog, Arty, and I made several presentations to elementary schools.  The act which always generated the most excitement among the kids was when he would tug off my socks!  It's really gratifying to see how awareness and proper etiquette around service dogs has improved since that time, especially among children.  And we won't mention the time in the car that Arty ate my sister-in-law's huge double-chocolate fudge brownie!
---
JESI HARTMAN 
Puppy Raiser / Trainer Since: 2011
Jesi is a Wisconsin native and Edgewood College graduate in Business and Marketing. After spending 5 years at a full service Ad Agency, she currently works at WKOW-TV, the local ABC affiliate, where she's been since 2012. Her co-workers LOVE having a dog at work and Jesi has gotten accustomed to her trainee being greeted before she is. Aside from work and training, Jesi loves spending time with her friends and family, baking, home-brewing, riding her motorcycle and relaxing on the deck of her Fitchburg home with her husband, Justin.
Why WAGS? I made the decision to become a WAGS Puppy Raiser because I wanted to help others in my community. To be a part of giving the gift of a service dog to someone in need and knowing that I am helping to change their life, is huge. There are so many joys that come along with training for WAGS. What excited me the most is overcoming challenges, watchin
g the pup progress and then imagine how much that skill will be able to benefit someone else. Being a part of WAGS has been much more meaningful that I ever thought possible. Seeing the pups be matched with their forever person and the love that comes from that bond is incredible.
Favorite Memory? I have a million wonderful memories, but one that really makes me laugh…My husband had just replaced the screen door to the back yard and that same day I had let Piper out. A few minutes later, for no real reason at all, she came bolting inside, right through the brand new screen!
---
GWEN EVANS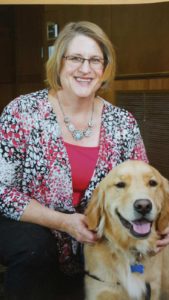 Puppy Raiser / Trainer Since: 2011
I am from Madison. My professional life involved writing and publishing for UW-Madison and Madison Newspapers. For fun, in addition to dog walks, I sing with the Madison Symphony Chorus and the Choral Union, and try to keep up with two busy children (ages 4 and 6).
Why WAGS? Becoming a service-dog trainer was always on my bucket list. I worked in offices that wouldn't allow dogs, so I had to wait for this adventure until I retired. I love learning about dog behavior and working on my training skills. Every dog has its own personality, which keeps us trainers on our toes. It's a wonderful, exciting feeling when the dog "gets" something you've been trying to teach for what feels like forever. The little light bulb goes off and you can see how happy the dogs are, too.
Favorite Memory? My current dog, Winnie, loves shoes as much as I do. She brings me shoes from the closet, and always in matched pairs. First the left, then the right, Then, another pair. She prances with them, so proud. By t
he end of an evening, there can be a lot of shoes on the couch. She's an excellent, retriever, even for things I haven't asked for!
---
KAREN WAWRZONKOWSKI 
Puppy Raiser / Trainer Since: 2013
Karen lives in Muskego, Wisconsin and enjoyed a fulfilling career as a Registered Nurse and Nursing Manager at Columbia-St. Mary's Hospital.  She graduated with her BSN from UW-Milwaukee and received her MSM (Masters of Science in Management) from Cardinal Stritch University.  She is recently retired and volunteers several days a week, taking her WAGS pup with her.  In addition to raising and training dogs for WAGS, she and her husband John enjoy spending time with friends and family.  The support and assistance from her husband John enhances her experience as a volunteer puppy raiser & trainer.
Why WAGS? Service dogs of all types have always impressed me with their dedication to service and awesome skills.  When I began to investigate how I could be part of something special, I came across WAGS and found that their mission matched my own values. The reward of guiding and teaching a small puppy obedience, socialization and specialized skills until they are mature enough to be matched with someone who will rely on them is incredible.  Watching the dog begin to learn a new skill and helping them grow to master it is a wonderful journey.  And when its time, I don't focus on 'giving them up', but rather relishing their success and knowing they are where they are supposed to be.   I encourage anyone who wants to make a real difference in someone's life (and your own!) to consider being a volunteer Puppy Raiser/Trainer for WAGS.
---
VICTORIA OBERLE  
Puppy Raiser / Trainer Since: 2013
Madison is a great place to be a puppy raiser.  It's incredibly dog friendly.  Business owners and their clientele understand the importance of our training and I've find them to be very supportive.   So you will frequently see me and my 4-legged companion visiting restaurants, libraries, movie theaters, bookstores, grocery stores, malls and more.  If you're considering becoming a puppy raiser, I encourage you to do so.  It is a rewarding and unforgettable experience.
Why WAGS?    When I was in college, I met a woman who was deaf and had a Hearing Service Dog.  I was touched by the impact he had in her life and by the strong bond they had together, they were truly partners.    I knew this was something I wanted to be involved with; I just didn't know when, how, or what kind.   Years later, while researching the various types of service dogs, I ran across WAGS.  I was fascinated by the wide variety of skills their dogs learn.  I love that they are a local organization that follows through with their dogs throughout their lifetime, not just when they are in puppy training.  They make the happiness and health of the dog a priority and that is important to me.   And WAGS teaches us how to teach the dogs, so it's an amazing learning experience for me as well as the puppy.
Favorite Memory?   Zac adores stuffed animals!  We were at a fundraising event during the fall, and children were petting him with their gloved hands.   Zac was lying on the ground half asleep and enjoying all the affection.   Then he starts get
ting pet by these HUGE soft fluffy gloved hands, a noticeable size difference from all the tiny hands that were petting him previously.   So he sleepily opens his eyes and slowly scans this new person from the bottom up.  Starting at the big feet, then the big legs, and finally the gigantic furry head … it's Bucky!!!    Zac was amazed, he looked up on utter awe and wonderment.   Then he looked at me as if to ask if he were dreaming about the World's Largest Stuffed Animal!    The look on his face was so adorable; it is absolutely one of my favorite memories.
---
MARK VAN DEN BROEKE  
Puppy Raiser / Trainer Since: 2015
Mark is originally from Hudson WI, but enjoys living in the Madison area because the community presents many opportunities to be involved for people of all ages. Mark works locally in health care real estate and development and coaches youth football and basketball. In his free time, Mark enjoys sports, hiking, the outdoors, animals, adventures and being with friends. Bucket list item: visit every U.S. national park during his lifetime and he's over half way there.
---
LYNDA RUCHTI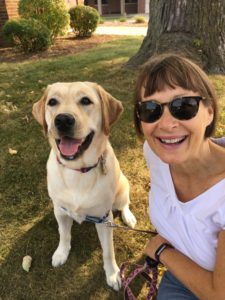 Puppy Raiser / Trainer Since: 2016
I am a Madison native who has enjoyed being a Speech-Language therapist for over 30 years.  I am devoted to my family and love mentoring other mothers.  I am often found dancing Zumba, doing Yoga, taking long walks, paddle or snowboarding as well as being curled up with a book, tracking fashion trends or deep in meaningful conversation with friends.
Why WAGS?    I had the inside scoop when friend with a WAGS service dog recommended it as a great organization.  She was exactly right.  The training WAGS pours into their puppies and puppy-raisers is rich.  There is so much to learn and it comes at a pace that makes it very interesting and manageable.  I find it all totally fascinating.  I am sure that I've learned as much about myself in taking on this new adventure as I have about training dogs.  
Favorite Memory?  I love the way that every member of our family shares puppy stories with each other throughout the week.  We are all amazed at how a pudgy, uncoordinated 8-week-old puppy turns into a skillful, mature dog so quickly through kind, positive training. Our service dog has become a meaningful and delightful (temporary) member of our home.  WAGS dogs learn to work while having their doggy nature cared for and encouraged.  These are happy animals! They have both joy in living and joy in serving.  Volunteering is a great way to learn that volunteering for others can also bring you great joy.  We all see how practice and persistence in training pays off.  I wouldn't trade the experience for anything.  A note of caution: This can be addictive and the swelling of love in your heart is very noticeable.
---
ANNIE ENGLEHARDT
Puppy Raiser / Trainer Since: 2017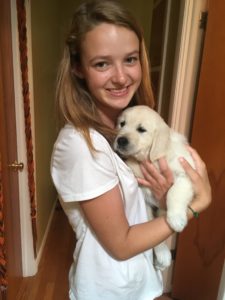 Annie is from Madison, but is currently attending Carroll University in Waukesha, WI. She is currently pursuing a degree in Animal Behavior and Psychology. As you can imagine, all the college students are thrilled to have a cute puppy on campus. When not at school or doing homework, Annie enjoys hiking, riding horses and running agility with her dog Roo.
Why WAGS?    When I was 9 years old, I read a story about a guide dog and his handler. From then on I wanted to raise a puppy to be a service dog. I kept this dream in the back of my mind until my freshman year of college. I learned about the internship requirement for my major, and decided that training a puppy could be a good fit. I tried to find an organization that matched my own values and would teach me about training the dogs.  About a year later I contacted WAGS about being a puppy trainer, and somehow everything worked out. I'm so glad I was able to find WAGS and become a puppy raiser.