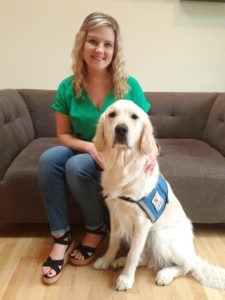 Puppy Raiser / Trainer Since: 2011
Jesi is a Wisconsin native and Edgewood College graduate in Business and Marketing. After spending 5 years at a full service Ad Agency, she currently works at WKOW-TV, the local ABC affiliate, where she's been since 2012. Her co-workers LOVE having a dog at work and Jesi has gotten accustomed to her trainee being greeted before she is. Aside from work and training, Jesi loves spending time with her family & friends, baking, boating and relaxing on the deck of her Fitchburg home with her husband, Justin.
Why WAGS? I made the decision to become a WAGS Puppy Raiser because I wanted to help others in my community. To be a part of giving the gift of a service dog to someone in need and knowing that I am helping to change their life, is huge. There are so many joys that come along with training for WAGS. What excited me the most is overcoming challenges, watching the pup progress and then imagine how much that skill will be able to benefit someone else. Being a part of WAGS has been much more meaningful that I ever thought possible. Seeing the pups be matched with their forever person and the love that comes from that bond is incredible.
Favorite Memory? I have a million wonderful memories, but one that really makes me laugh…My husband had just replaced the screen door to the back yard and that same day I had let Piper out. A few minutes later, for no real reason at all, she came bolting inside, right through the brand new screen!