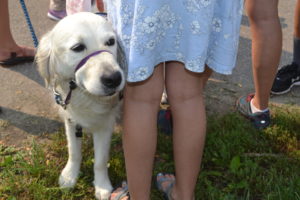 Our highly-skilled service dogs provide functional independence and promote an improved quality of life for people with physical disabilities.
WAGS has facilitated more than 200 partnerships with service dogs for people with physical disabilities. Read more about WAGS.
WAGS works exclusively with Golden Retrievers and Labrador Retrievers. WAGS dogs are raised, socialized, and trained by volunteers under the direct supervision and guidance of our Training Director.  See our current WAGS dogs in training.
Become a Volunteer Trainer
Have you ever considered becoming a volunteer trainer for WAGS? Now is the time! We are currently recruiting new volunteer trainers.
Upcoming Events
Check out our Events Page for upcoming activities and fundraisers. the Event Page for details.
On The Blog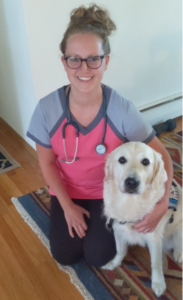 Did you know WAGS also also trains highly-skilled clinical therapy dogs?
Learn the difference between service dogs and clinical therapy dogs in our new blog post. We also sat down with volunteer WAGS trainer and clinical therapy dog handler, Jill Speer, on what it's like to work with a clinical therapy dog.
Read the blog: What Do Clinical Therapy Dogs Do?