WAGS' mission is to promote functional independence and improved quality of life for people with physical disabilities through partnerships with highly-skilled service dogs. WAGS has facilitated the partnership of more than 125 service dogs for people with physical disabilities. Read more about WAGS.
2019 Annual Fall Fundraiser
Join us for our Annual Fall Fundraiser hosted by John Zeigler, WKOW 27, October 24 at Wyndham Garden Hotel. See event page for details.
Adopt a Non-Graduate Service Dog: Meet Autumn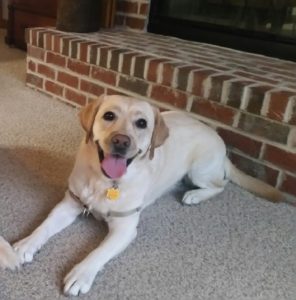 Autumn is a three year-old Yellow Lab who is as sweet as the day is long and is looking for her forever home. She's affectionate, go-with-the flow and wicked smart.
If you're an experienced dog owner looking to add another member to your family,  read more about Autumn and our non-graduate adoption process.
---
Meet Team Mari & Olive!