Puppy Raiser / Trainer Since: 2013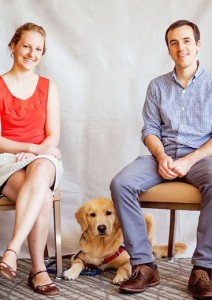 Jill: I'm currently a school nurse in the Madison Public Schools. Besides training with WAGS dogs I like to go camping, enjoy nature, and cook and share new foods with family and friends.
Ryan: I'm a public interest lawyer in Madison. I've trained five WAGS dogs: Scout, Sundae, Winnie, Willa, and Breeze. In addition to training, I enjoy learning new instruments and playing music, bike trips, swimming or kayaking in lakes or rivers, and hanging out on the porch.
Why WAGS?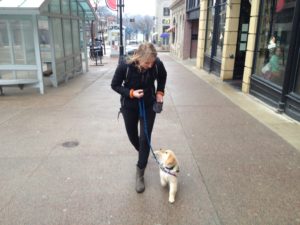 Jill: I originally learned about WAGS when Aaron and Ian did a WAGS demo at my former workplace in Madison. My favorite part of being a WAGS trainer is getting to know each of the dogs' personalities. Each is truly an individual and that keeps training fun and interesting. It also makes the ultimate goal of creating a working team that much more inspiring.
Ryan: I became interested in volunteering with WAGS because its services are unique and the local nature of its mission appealed to me. Helping to improve everyday life for fellow Wisconsinites by training a dog at home and in my community sounded like a fulfilling opportunity that I could incorporate into my day-to-day routine.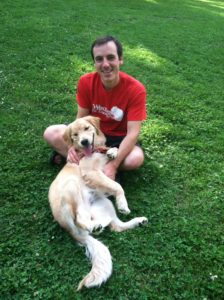 Favorite Memory?  
Jill: Willa really cracked me up after she got spayed and was sporting the cone while we went to run some errands. She couldn't resist still sticking her head out the car window to feel the breeze, cone and all. I love the dogs' goofball moments.
Ryan: Gotta go with the time Winnie (service dog in training) was the ring bearer at my wedding ceremony and nailed it.