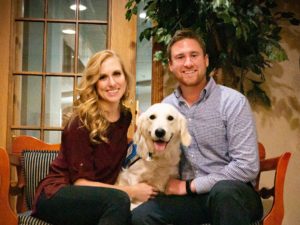 Puppy Raiser / Trainer Since:
Mark 2015; Emily 2018
Mark works locally in health care real estate and development, and coaches youth football and basketball. In his free time, Mark enjoys sports, hiking, the outdoors, animals, adventures and being with friends. Originally, Mark is from Hudson, Wisconsin and moved to the Madison area in 2014.
Emily is a veterinarian who is currently earning a PhD at UW-Madison in canine genetics. She has always had a strong interest in animal behavior/training and supporting the human-animal bond. Previously she was an avid volunteer at a non-profit organization that performs adaptive horseback riding and occupational therapy for special needs children.
Why WAGS? Both Mark and Emily did not grow up with family dogs, and were really interested in getting involved with WAGS to learn more about puppy raising/training. Since their time with WAGS, they have been involved in the puppy training phase of 3 dogs. Now puppy raising is their favorite part!
Favorite Memory? Mark's favorite WAGS memory was the first time he got to see a dog he had trained, Zac, working with his client. Being able to witness the joy and excitement Zac brought to his client, and how happy Zac was with his client was really a heart warming moment. Being a trainer you develop a strong connection and love for each and every dog. Every time a dog graduates to a new trainer or their full time client, it is always a little bittersweet. However, seeing a placed dog excelling with their full time client or another trainer brings Mark and Emily so much happiness and joy.